Stories From The Front
STORIES FROM THE FRONT is the title of a soon to be released new book by Chuck Tatum about Iwo Jima.  Even after the just released 4th Edition of Red Blood Black Sand as a Berkley Caliber book (a Penguin Books Company) Chuck still had more stories to tell about Iwo Jima.  Those stories include:
Witness to Valor, this section includes personal accounts of the Iwo Jima battle by two other Survivors.  Their stories are of ordinary men who did extraordinary things when called upon by their country under the most horrific of situations.  These incredible stories of these Veterans must be told to preserve our history.
For the Rising Sun, is a novelette by Chuck about a Japanese Naval gun crew member's struggle after his gun emplacement on Iwo Jima had been destroyed.  The fiction of For the Rising Sun is written with the passion and first-hand knowledge of the battle that only someone who was really there on Iwo Jima during the invasion could write it.  Also it clearly demonstrates Chuck's incredible respect for one of the greatest fighting forces known to man – the Military Forces of the World War II Empire of Japan.
WHATEVER HAPPENED TO?  Includes follow up stories of the Officers, NCOs and other Pfcs like Chuck.  These stories include accounts of both their time on Iwo Jima and in civilian life after the war.
CITATIONS is a transcription of the citations of several of the men who were awarded Bronze Stars, Silver Stars for their actions on Iwo Jima.  A transcription of John Basilone's Navy Cross citation is also included in this section.
A final section of ODDS & ENDS contains some unique poetry by Chuck that clearly demonstrates his immense pride in our country, and of being a Marine.  One of these poems is about the 19 Marine Raiders whose beheaded remains were recovered from a South Pacific Island 50 years after the war, and now buried at Arlington National Cemetery.  He even thought of some new verses to add to the Marine Corps Hymn, which also shows his pride of the Corps.  The Story of the Stamp chronicles what it took to get a U.S. Postage stamp issued to honor John Basilone.  Finally, there is some personal correspondence included with Clinton Butler, a Marine himself, and son of Lt. Colonel John Augustus Butler who was killed on Iwo Jima.  Clinton wrote an account of his trip to the 50 Year Anniversary of the Battle of Iwo Jima.  This includes not only U.S. Marines, but of their incredible former enemy, the very few Japanese survivors from Iwo Jima.  The only thing that exploded on this meeting was the absolute respect these former enemies now have for each other.
Stay tuned!  Chuck and I are already working on a THIRD book about Iwo Jima entitled Dispatches from the Front with still more Survivors accounts of the battle, and the 60 year struggle for the remaining real FIRST flag raisers on Iwo Jima to be recognized by the Marine Corps.
If that is not enough, Chuck is also in the completion stages of another book with his daughter, Nanci Lesley entitled Citizen Informant, that details Chuck's involvement in assisting Lou Peters and the FBI as they took down Mafia Boss, Joseph Bonnano – the head of one of the five New York crime families.  Just how many 86 year old guys do YOU know that have lead such a full life and currently have THREE books in the works?  I bet you can count them on one hand, and have several fingers left over!
Stories from the Front Editor, Kevin E. Mc Donald
My name is Kevin E. McDonald, and I met Chuck in October of 2011after reading Red Blood Black Sand, I was so impressed with his story that I found a way to meet Chuck, as I wanted to shake his hand and thank him for his service.  I gave Chuck a copy of the biography I co-wrote about Susan Sampson-McAnelly, the very first woman police officer to patrol solo in the most dangerous areas of the four-time Murder Capitol of the United States, and Chuck's hometown, Stockton, California entitled Susan Gun Vice Cop The Book.  Chuck had a particular interest in it as his son, Blake Tatum, is a retired Stockton Police Leiutenant.  About a week later Chuck called me and told me that he had read Susan Gun from cover to cover, and that he was also impressed with my writing.  Chuck invited me back to discuss assisting him with some writing projects.
Chuck is very sharp, alert, and in relatively good health, but he is 86 years old now, and he realized that he need some help in getting Stories From The Front ready for publication, so he asked me to write an introduction, compile, edit, and assemble the book for him.  I am incredibly honored that Chuck has entrusted me to do this task, and I hope that I can do justice to these Iwo Jima Survivors, the heroes that are buried on Iwo Jima, and all Veterans with my small contribution.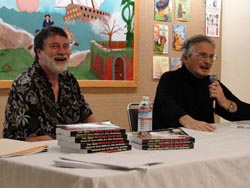 Stories from the Front Editor, Kevin E. McDonald and Author, Chuck Tatum at a Stockton Public Library booksigning February 18, 2012.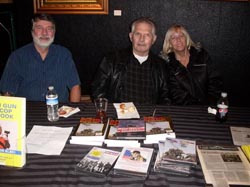 Stories from the Front Editor, Kevin E. McDonald, Author, Chuck Tatum, and Susan Sampson-McAnelly, aka Susan Gun Vice Cop at a Lodi Arts Foundation, First Friday Art Hop Booksigning December 2, 2011.