Books - Iwo Jima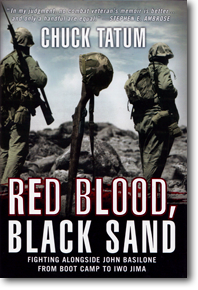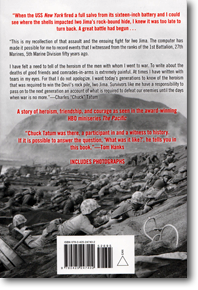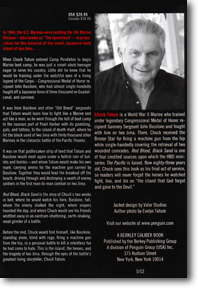 Hardback Book - 358 pages, Includes Photos, 4th Edition Published by Berkley Caliber Publishing, Penguin Group.
100% Positive Reviews on Amazon.com - Read Reviews Here
Includes new bonus chapters: "Chuck's thoughts on Tom Hanks & Steven Spielberg's HBO Mini-Series The Pacific" and actor Ben Esler's "On Set Memories of Portraying Chuck Tatum".
Originally penned for his Marine buddies, now, WWII veteran Chuck Tatum's coveted book, "Red Blood, Black Sand", is available to audiences worldwide. "Red Blood, Black Sand", is Chuck's true story, his first-hand account of Iwo Jima, the Marine Corps most savage battle.
Best-selling author/historian Stephen E. Ambrose praised "Red Blood, Black Sand", saying, "In my judgment no combat veterans memoir is better... and only a handful are equal." Tom Hanks and Steven Spielberg agreed, and bought the rights to use "Red Blood, Black Sand" as a credited source for their new, $200-million-dollar HBO mini-series, "The Pacific". In addition, they made Chuck Tatum a central character of the series, portrayed by actor Ben Esler.
"Red Blood, Black Sand", transports the reader back to 1944, when the Marine Corps built a fresh division, the 5th, for an apocalyptic battle: Iwo Jima. This gripping narrative follows Chuck's life-or-death training at Camp Pendleton where Chuck learned machine guns, the tools of his trade, from his new mentor: Congressional Medal of Honor recipient John Basilone. Chuck's colorful storytelling takes the reader on his voyage overseas, from the raucous port of Pearl Harbor with its gambling, gals, and tattoos, to the island of death itself, where Chuck hit the black sand beach of Iwo Jima, an 18-year-old Marine machine gunner in the climactic battle of the war.
This is the story of Chuck's two weeks in hell, where he fought alongside Basilone and watched his hero fall, where enemy infiltrators stalked the night and snipers haunted the day, and where Chuck would see his friends whittled away in an ear-shattering, earth-shaking, meat grinder of a battle. Before the end, Chuck would find himself, like his hero Basilone, standing alone, blind with rage, firing a machine gun from the hip, while in a personal battle to keep his sanity.
This is the island, the heroes, and the tragedy of Iwo Jima, through the eyes of the battle's greatest storyteller, Chuck Tatum.
---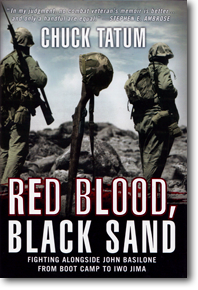 Hardback Book - 358 pages, includes photos. Order Now!
The capture of Iwo Jima was supposed to have taken three days with relatively minor casualties. More than a month later, 6,821 Americans were dead. The story of Iwo has been told many times before, but this latest account is through the eyes of a Marine PFC. whose experiences, thoughts and feelings are now ours to share. The account focuses not only on the author's experiences but upon those of the men he served with on Iwo Jima.
An unusual aspect is the inclusion of memoirs of several Japanese officers, offering a different, yet very relevant perspective. This is a contribution to the greater historical account. It is a personalized view of a cataclysmic event, but most of all, it is a tribute to the men who served and who sacrificed under the most arduous of circumstances.
Review From: January/1996 U.S. Naval Proceedings
Forward by Colonel Justin Gates Duryea
Has the Japanese battle plans
Quotes Japanese generals and officers
Contains the personal recollections of generals, colonels, majors, sergeants, corporals and Pfc.
Has accurate and rare historical facts and never before published photographs.
"For someone like myself, an Iwo Jima survivor, it (Iwo Jima: RED BLOOD, BLACK SAND, Pacific Apocalypse) brought back all the bitter memories of our descent through the gates of hell that was Iwo Jima. One word describes the book. TERRIFIC!"
Stan Dobowski, Secretary, Iwo Jima Survivor's Association
Excerpt from the book "Red Blood Black Sand"
What I thought was another mortar shell fell in the same spot as before exploding 75 feet in front of Steve and me. The blast's shock wave whipped up black dirt which pushed its way into my eyes and forced sand into my mouth-gagging me. It was uncomfortable and nasty but my worry wasn't for myself. I hoped it wouldn't foul our weapons.
Basilone ran up, whacked me on the helmet and pointed to the area "mortar" shells had been regularly hitting. Only when sand and dust cleared, could I see Basilone was pointing to the aperture of a reinforced concrete bunker or blockhouse.
The structure probably housed a 75mm or larger cannon whose field of fire was directed down the beach to our right. It was a big ... with incredible killing power. Its shells were stalling the advance by killing men in the Fourth Division. It may have been firing "tree bursts," (Marine-speak for explosions at tree level for anti-personnel destruction.)
Basilone immediately directed Steve and me into action against the hardened concrete emplacement whose walls and roof had withstood our bombardment by 14 and 16 inch shells.
I slapped my machine gun tripod on the deck and Steve snapped our weapon into place. Throwing open the breach, Steve handed me the ammo belt. I slammed the breach over the belt and pulled the bolt back chambering the first round with an authoritative click. I tried to fire the first burst. Nothing happened!
The ... gun wouldn't fire because the breach was full of sand and grit. We had carefully wrapped our weapon in a protective green Marine bath towel intended to prevent crap from jamming the bolt.
It hadn't worked.
"Why in the ... did this have to happen now?"
I threw the breach open again and rolled over on my side while Steve opened my pack and got the cleaning gear out. I used a tooth brush to carefully clear away the sand fouling the breach. This took less than 30 seconds, but seemed like a lifetime.
Lieutenant John A. Dreger, our platoon leader at Camp Tarawa, Hawaii, had drilled us endlessly on this procedure, forcing us to do it blindfolded. Now his training paid rich dividends for us.
I instinctively reloaded, closed the gun, pulled the bolt, and let it slam forward. I was relieved when this time it fired and I saw my tracers bouncing harmlessly off the blockhouse.
We weren't penetrating it. My rounds ricocheted impotently off its steel walls. Basilone knelt beside me, looking like he wanted to be the gunner. He watched me in frustration. When my machine gun was finally firing properly, he poked me as a signal to move to the right.
Running 35 feet to the spot picked by Basilone, our field of fire was now oblique to the aperture of the blockhouse cannon. We opened fire again and the tracer rounds were right on target! Now I was pleased with myself!
My bullets forced the ... gunners to close the gun port. With the armored port closed the front of the blockhouse was blind. Even though it was temporarily out of commission, I still wanted to fire at it.